Posted on May 17, 2023
Corporate Announcement
Rental Apartments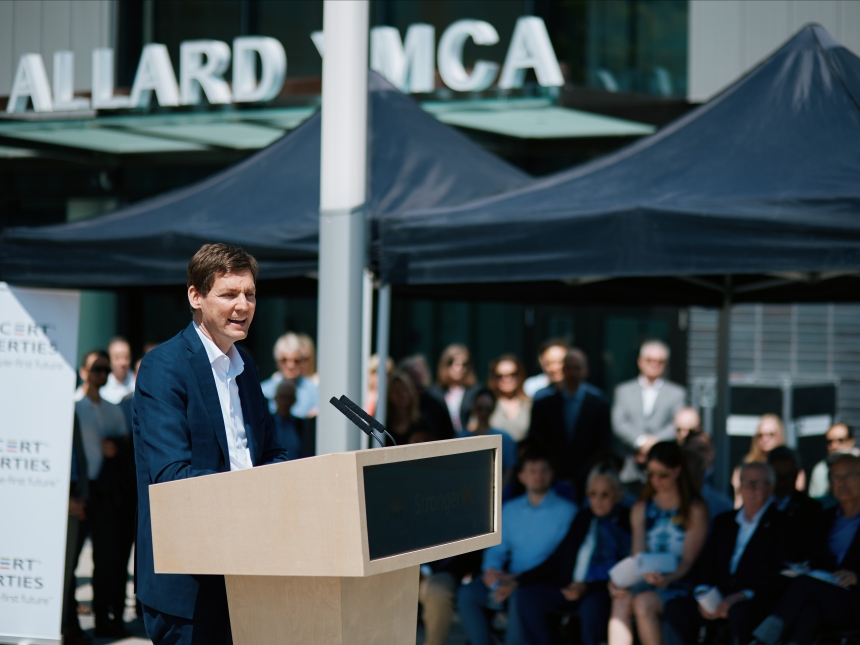 On Tuesday, May 16 Concert Properties' Chair, President & CEO David Podmore, OBC welcomed partners and guests at an event celebrating the opening of our newest purpose-built rental building, 55One. Located at 551 Emerson Street in Coquitlam, BC, the 308-suite tower offers 100 affordable suites now ready for individuals and families to move into.
Podmore was joined by guest speakers Premier David Eby, Minister Ravi Kahlon, Mayor Richard Stewart and the CEO of 43 Housing Society and SHARE Family & Community Services Society Claire MacLean, each reflecting the government, industry and not-for-profit organization that helped make this project a reality.
"For too long governments did not prioritize being involved in affordable housing in British Columbia, but purpose-built rental construction in our province is now at a record high. Today, I'm really excited to be here with my colleagues and our partners to officially open 55One," said Premier David Eby. "Collaboration and creativity are key to solving the housing crisis [and] 55One is proof of that. Our government is going to continue working with partners to deliver these homes and create the communities people need throughout the province. 55One is the latest example of how we can work together to build a province where everyone has a good place to call home, and nobody gets left behind."
"These challenges to building affordable rental housing are not new. I co-founded Concert Properties in 1989 as a private public partnership with a mandate to build assured rental housing to help address the housing crisis we faced. We've since built and now manage over 5,300 rental homes across the country, and we're very pleased to continue this legacy at 55One through this partnership," said David Podmore, OBC. "I agree with the Premier and the Minister that it is only through more partnerships like this that we can continue to deliver affordable housing and address our ongoing housing challenges."
The suites, located throughout the tower, are a mix of studio, one, two and three-bedroom homes leased and operated by 43 Housing Society. The homes provide families, couples and individuals in the community with a range of affordable housing options, with monthly rents ranging from $375 for a studio to $2,826 for a three-bedroom home. Thirty-one of the 100 suites are dedicated, accessible homes and include two adaptable homes for those with mobility and/or physical challenges. The remaining 208 suites are rented at market rates.
All residents will have access to over 20,000 sq. ft. of amenity spaces, including indoor and outdoor lounge areas, a fitness facility and underground parking. The building is adjacent to the new Bettie Allard YMCA.
The Province of British Columbia contributed $10.6 million through the Building BC: Community Housing Fund and is providing an annual operating subsidy of $571,000. The City of Coquitlam is contributing $3.8 million through its Affordable Housing Rental Fund, and Metro Vancouver provided $274,000 in waiver fees. The federal government also provided low-cost financing through its Rental Construction Financing initiative.
After the formal event, guests were invited to the amenity room at 55One for a reception and to enjoy the views from the 31st floor rooftop lounge.