Posted on Jul 31, 2023
Community Involvement
Seniors Retirement Community
Blog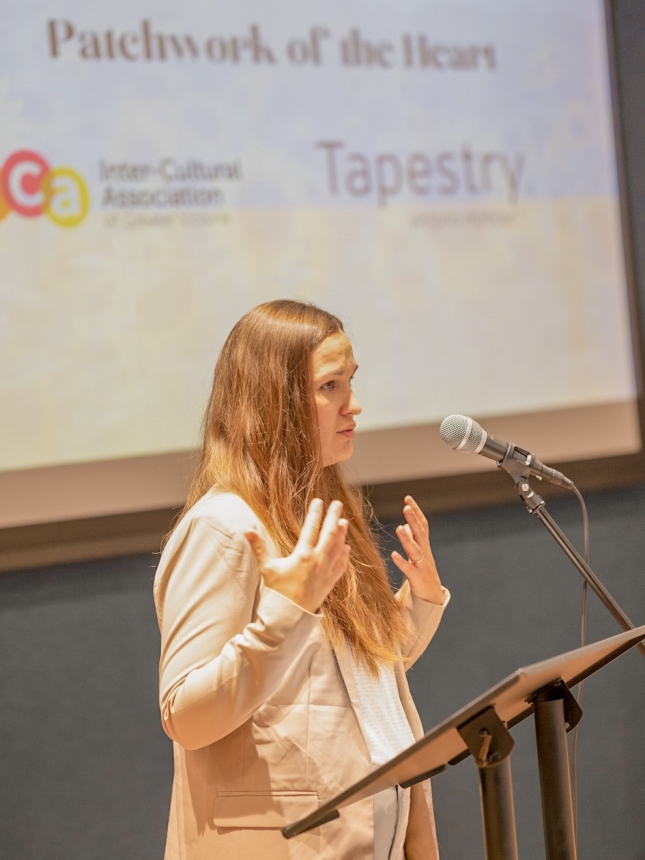 Through fundraising efforts by residents of Tapestry at Victoria Harbour, one of our four Concert Properties seniors' communities, over 20 Ukrainian families will receive critical financial and housing support from the Inter-Cultural Association of Greater Victoria (ICA), an organization committed to finding long-term local solutions to support the needs of immigrants and refugees.
Last year, a group of dedicated Tapestry residents partnered with the ICA to fundraise and support the settlement of Ukrainian nationals seeking temporary residency in the Victoria region. More than $20,000 was raised through a province-wide raffle to win the 'Patchwork of the Heart', a beautifully crafted quilt created by a group of Tapestry residents, featuring the colours of the Ukrainian flag.
On July 25, the community at Tapestry gathered to learn how their efforts will help support over 20 families with funding and housing. They also heard from Hanna Kontomyrova, a displaced Ukrainian citizen now living in Victoria. She spoke about her heart-wrenching experience leaving her country, and expressed her tremendous gratitude for the kind support and generosity that has helped her and other Ukrainians find a safe place to live and start life anew in Canada. "We thank you for the support in all that you're doing," said Hanna. "We promise to do the same for Canada." Today, Hanna is a staff member of the ICA and is "paying it forward" to help other immigrants and refugees seeking support to establish a new life in Canada.
"The initiative directly helped Ukrainians arriving in Victoria, vulnerable families and single moms, while also supporting us to find long-term solutions for refugees and immigrants arriving in Victoria every year," says Chief Executive Officer of ICA, Shelley D'Mello. "Around 90 million people around the world have been forced to flee their homes, and we count on the support of the community to be able to respond to their needs as they settle into Victoria," D'Mello adds. 
Through this and Concert Properties' additional fundraising efforts, a total of $40,000 has been raised for those impacted by the war in Ukraine. This included a month-long campaign, with the company matching employee donations made to the Red Cross' Ukraine Humanitarian Crisis Appeal, which funds relief, recovery, resiliency and risk reduction activities in and beyond the region. These fundraising efforts are examples of one of Concert Properties' founding principles - giving back to the communities where we work.