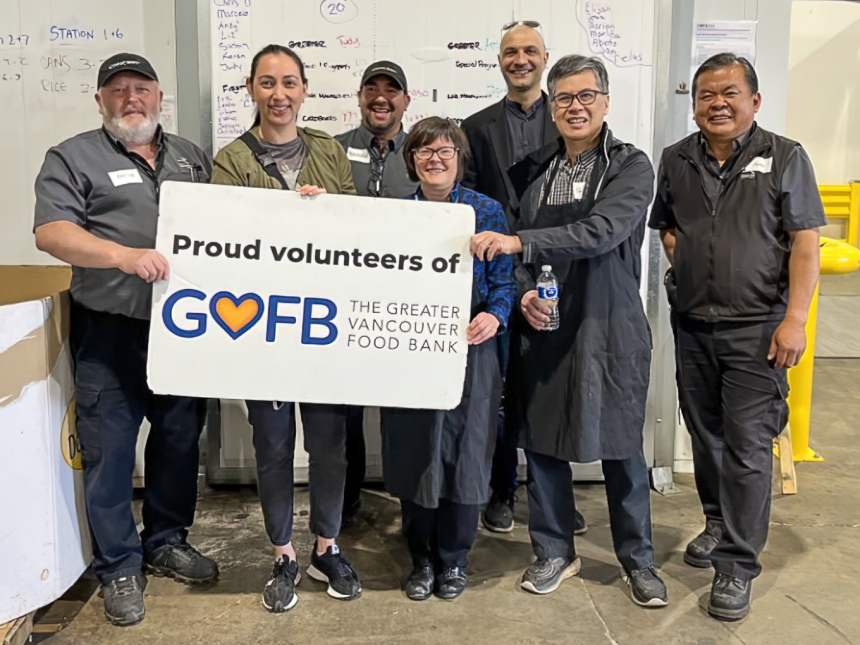 Employees from across Concert Properties have been active this spring helping give back to the communities where we live and work.
On Wednesday, May 24, a group of employees from Head Office volunteered for Ocean Wise Shoreline Cleanup, one of the longest running and largest direct action conservation programs in Canada. Employees spent their morning cleaning Sunset Beach near downtown Vancouver and collected 16 kg of garbage (the most numerous item collected? cigarette butts!). Isabel Dedecek in Finance organized the event. "At the Townhall, CEO David Podmore said one of our goals is to live our core values through our community engagement, so I decided to organize a volunteering event. We had 42 people participating (from Finance, Accounting and Information Systems & Technology (IST)), and staff said it felt really good to give back to our community and it was really nice to get outside and spend some time with team members you don't see every day." See more about the Shoreline Cleanup initiative here.
A group of 16 Concert Properties IST employees (who dubbed themselves team "TechPower") completed lunch hour workouts last month for Workout to Conquer Cancer. Each member of the team moved and worked out every day in May to raise funds for the BC Cancer Foundation. "We had a great time encouraging each other with the Workout challenge. Big kudos to our teammate Saul Kagzi who raised over $1,000 of our total. We are also very grateful to the Concert employees and contractors who supported us through this challenge," says Kathy Snelling in IST. To date, the group has raised a total of $3,230, exceeding their fundraising goal of $3,000.
Members of our Building Management and Property Management team recently volunteered at The Greater Vancouver Food Bank. "The Food Bank called me to say thank you for sending over a great team of volunteers!" says organizer Thomas Sprott, Property Management Assistant. "I had a great time volunteering with an amazing group of people who work at the Food Bank (as well as all the volunteers). Kudos to everyone! I would volunteer there again in a heartbeat," says volunteer John Englouen.
Several employees across the company also supported our Jean Up Campaign for BC Children's Hospital. They raised $3,100 (far exceeding their goal of $2,000) which was matched by Concert Properties, for a grand total of $6,200. Click here to learn more.
Finally, Concert Properties was proud to donate $2,500 to the Jr. Black Achievement Awards Society to sponsor their Community Initiative Award presented at their Gala and Awards Ceremony. The funding supports the award, as well as scholarships and programs the Society offers to help empower Black Youth and their families through training, recognition and access to education. Learn more about this organization here.