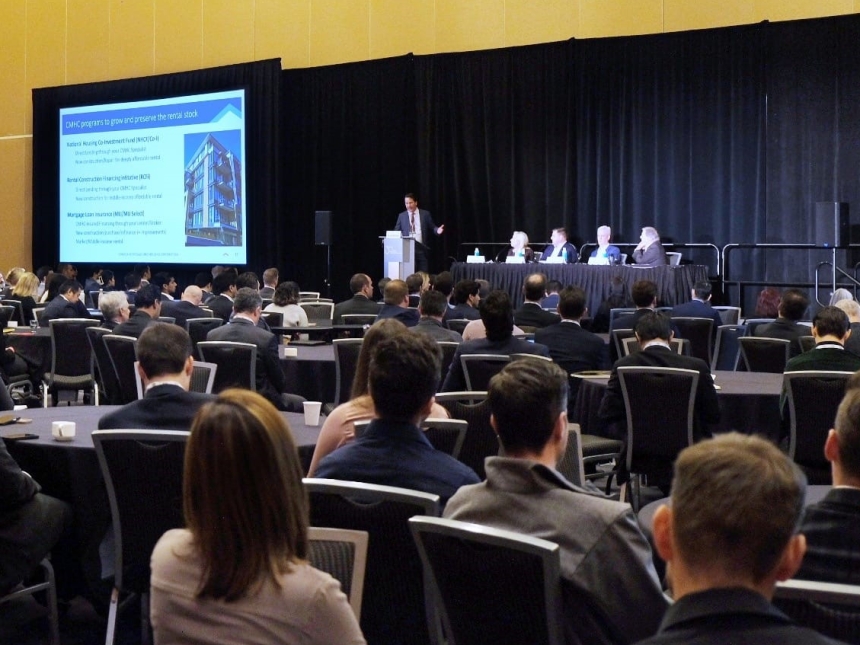 At 2023 Vancouver Real Estate Forum, David Podmore & BC Housing Minister Kahlon agree on solution
April 13, 2023, Vancouver, BC — The Vancouver Real Estate Forum (VREF) was held on April 5, when 1,500 development-industry professionals and real estate leaders converged at the Vancouver Convention Centre to discuss the influx of new residents and impact on real estate. The conference kicked off with David Podmore, OBC, Concert Properties' Chair, President & CEO, interviewing the Honourable Ravi Kahlon, BC Minister of Housing. The key takeaway, echoed throughout the conference's sessions, was the necessity of industry partnerships to address the housing challenges the province faces.
"The development industry in BC has a wealth of knowledge, expertise and experience," said David Podmore to Minister Kahlon during their interview. "With a willing partner in the Ministry, I am hopeful that we can together address the crisis we face."
Increasing demand but too many impediments to new development
As noted in one of the day's sessions, Canada's population grew by over one million last year, a record high not seen since the post-war baby boom in 1957. British Columbia welcomed nearly 150,000 new residents in 2022 and is expecting these numbers to continue increasing as the federal government eyes 500,000 yearly newcomers by 2025. At the same time, new housing starts are declining.
The challenges facing the industry that Podmore noted in his interview with Minister Kahlon were repeated by others during the Forum: lengthy approval processes are impeding developers' ability to bring housing to market; high costs are increasing risk; and a lack of cost-effective land is delaying development of market and non-market rental housing projects. The combination of Increased demand from population growth and reduced supply is therefore creating a very challenging housing market.
Potential solutions to the issue of supply
Part of the Province's solution described by Minister Kahlon is the recently announced 'Homes for People' action plan, aimed at increasing density on existing single-home lots, which would supersede any municipal legislation preventing such developments. The plan deals solely with low-density housing, however, and doesn't affect the kind of mid and hi-rise projects that Concert Properties and other developers are undertaking.
Another program, 'BC Builds', may offer a solution. While limited information is yet available about BC Builds, Minister Kahlon gave Podmore an exclusive preview of what it includes – the use of government-owned lands for new developments, which is a solution Podmore has also been proposing for some time.
Kahlon acknowledged that land costs are a roadblock for developers, adding, "So why wouldn't government use the resources we have to leverage and build the housing we need?" He also noted that no one else in North America is doing what BC intends to do.
Podmore agreed, citing, "It is a similar partnership model that Concert Properties used back in 1989, working with the City of Vancouver and the province, to develop assured rental housing Vancouver. Long-term leases on government land provided assurance to both the developer and the tenants."
Minister Kahlon stated that he values the work the real estate industry does, and that when it comes housing, developers are "critically important." From David Podmore's perspective, "The conversation around housing supply is incomplete without developers, and, at the same time, we rely on our government partners to create an environment which is ripe for development activity."
Both agree that partnerships and collaboration are key to addressing this challenge.
-30-
About Concert Properties
Since 1989, Concert Properties has proudly developed, acquired and managed Canadian real estate in pursuit of building a people-first future. With over $9 billion in assets, we are backed and owned by over 200,000 Canadians, represented by union and management pension plans and institutional investors. Concert Properties comprises three corporate entities, Concert Real Estate Corporation, Concert Infrastructure and Concert Income Properties. Within these entities, we develop and manage rental apartments and seniors' active aging communities; develop condominium homes; develop, acquire and manage commercial properties; and invest in, develop and manage public infrastructure projects across Canada. In each area of our business our vision remains the same: build resilient, inclusive and sustainable communities. See ConcertProperties.com for more information.
About Vancouver Real Estate Forum
The Vancouver Real Estate Forum is organized by Canadian Real Estate Forums, a subsidiary of Informa Connect. For more information on the event, please visit www.VancouverRealEstateForum.com
To view the interview between David Podmore's and Minster Kahlon please see here. For images or additional questions, please contact:
John Corry
Director, Corporate Communications, Concert Properties
Phone: 604.602.3838
Email: JCorry@ConcertProperties.com
Brent Murphy
tartanbond, on behalf of Concert Properties
Phone: 647.449.4669